AGRICULTURAL EXTENSION IN NEPAL: EXPERIENCES AND ISSUES
Keywords:
Agricultural Extension, Nepal, Experience, Issues
Abstract
A detail study on the experience of agricultural extension in Nepal was done by discussion with experts, academicians and involved agricultural officers of Nepal along with review of different documents, books and articles on the subject matter. Since from the first effort of extension service, Training and visit, Integrated Rural Development Approach, Tuki Approach, Farming System Research and Extension Approach, Block Production Program were the approaches used in the past. Conventional Educational Approach, Pocket Package Approach, Projectization Approach, Farmers Group Approach, Farmers Field School Approach, Partnership Approach are the approaches being followed presently in agricultural extension in Nepal. The extension efforts in the country are guided by the National Agricultural Extension Strategy.  Department of agriculture under ministry of agricultural development is responsible for providing public extension service via District Agriculture Development Office (DADO), Agriculture Service Centre, Contact Centre, Model Agriculture Service Centre and Community Agriculture Service Centre at the farmers level. Farmers Group and cooperatives, International and National Nongovernmental organizations, Community Based Organizations and few private entities are providing the private extension services. major issues found in public extension systems are lack of motivation among the rural youths, farmers; natural resource degradation and climate change and sustainability issues; inadequate number of the extension workers and their qualification and skills; inadequate  infrastructure and capacity for use of ICTs among the ground level extension workers; lack of monitoring and assessment of impact of extension activities in rural farmers; low level of need based extension coverage particularly for small farmers; ineffective and weak linkages between stakeholders at different levels; low level of education of farmers; insufficient budget and investment for extension activities; domination of supply driven approaches rather than demand driven; inadequate extension services in parts of value addition and market exposure.
Downloads
Download data is not yet available.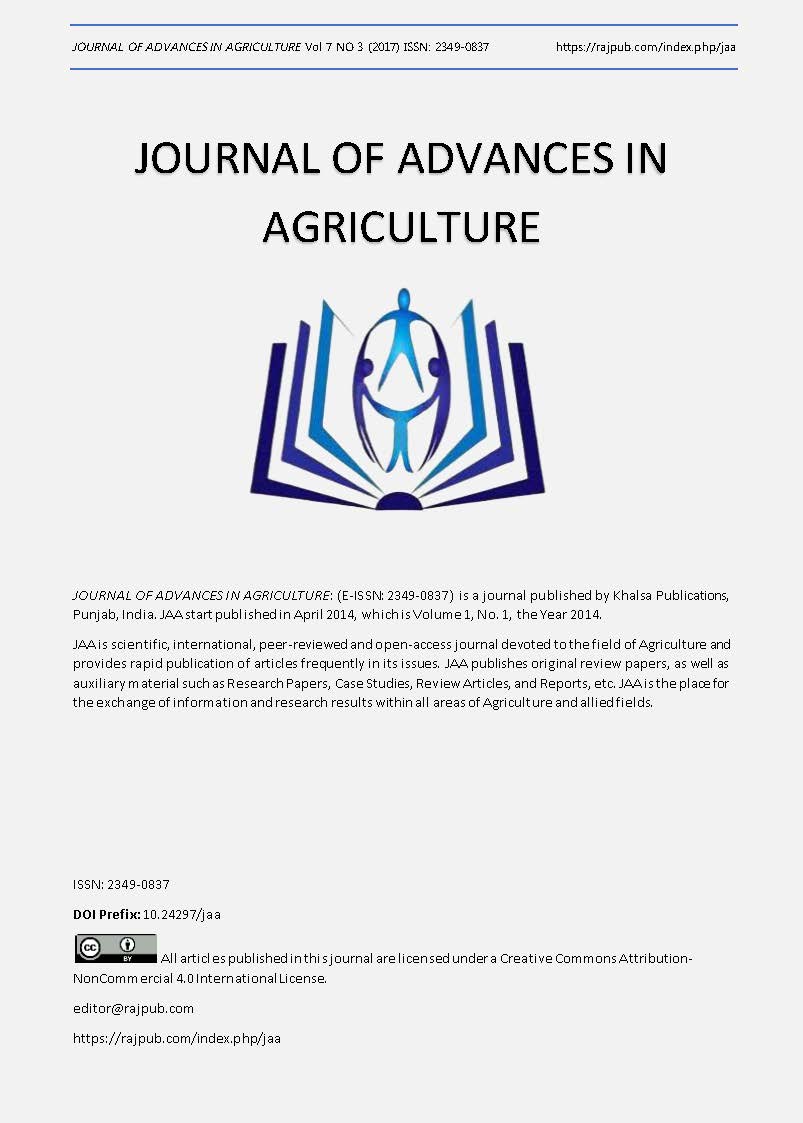 Downloads
How to Cite
Dhital, P. R. (2017). AGRICULTURAL EXTENSION IN NEPAL: EXPERIENCES AND ISSUES. JOURNAL OF ADVANCES IN AGRICULTURE, 7(3), 1071–1082. https://doi.org/10.24297/jaa.v7i3.6287
License
 All articles published in Journal of Advances in Linguistics are licensed under a Creative Commons Attribution 4.0 International License.