Assessment of the insecticidal activity of aqueous extracts of two local plants for the management of Leucinodes orbonalis Guenee, (Lepidoptera : Pyralidae ), pest of eggplant (Solanum aethiopicum), in guinean area of Cote d' lvoriee
Aboua Louis Roi Nondenot

Obodji Adagba
Keywords:
Leucinodes orbonalis, Solanum aethiopicum, aqueous extracts, insecticidal activity, seed capsule of Ricinus communis
Abstract
Leucinodes orbonalis is a major pest of eggplant (Solanum aethiopicum). Control tests with aqueous extracts of two local plants have been carried out on this pest in Azagui located Guinean area of Co´te d'Ivoire. The experimental design used was a randomized block with three replications consisting in total of seventeen sub-plots corresponding to sixteen treatments and untreated control. After spraying with different concentrations of extract, two groups were distinguished in comparison with the chemical insecticide (K-optimal 35 EC). The group of extract witch permitted to obtain the best results than the chemical insecticide was composed of aqueous extract capsules R. communis (50 and 60 g / l). At these concentrations of 50 and 60 g / l, the highest percentage of the reduction of shoot infestation were respectively 94.71 ± 1.12 % and 93.14 ± 0.85 % (stage before flowering), 95.78 ± 1.07 and 94.40 ± 0.76 % (flowering stage) and 94.73 ± 0.86 and 94.22 ± 0.57 % (fruiting stage). As for the higher fruit percentage of the reduction of shoot infestation were respectively 85.68 ± 1.64 % (60 g / l) and 86.80 ± 1.51 % (50 g / l). The highest numbers of healthy fruit ranged from 206.81 ± 6.16 (50 g / l leaves of C. papaya) and 237.10 ± 6.96 10 fruits per plant (50 g / l seed capsule of R. communis). The aqueous extract of the R. communis seed capsule could be used for integrated pest management against L. orbonalis.
Downloads
Download data is not yet available.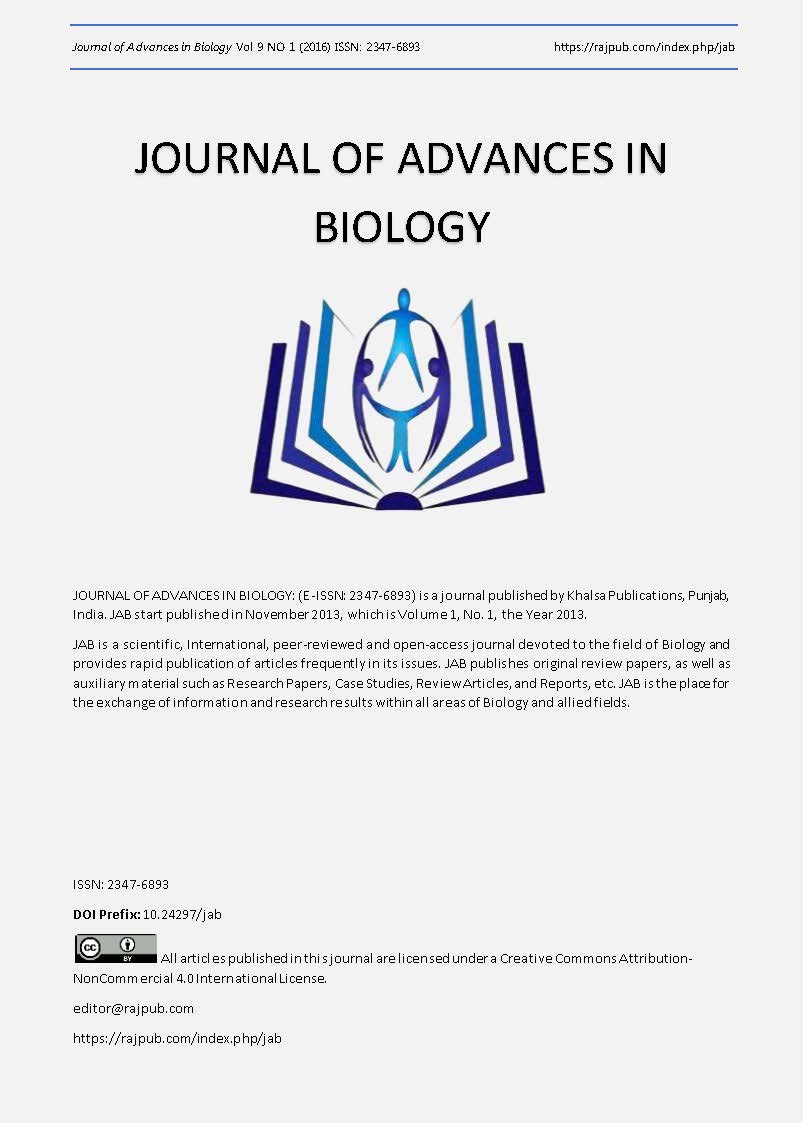 Copyright (c) 2016 JOURNAL OF ADVANCES IN BIOLOGY
This work is licensed under a Creative Commons Attribution 4.0 International License.
Authors retain the copyright of their manuscripts, and all Open Access articles are distributed under the terms of the Creative Commons Attribution License, which permits unrestricted use, distribution, and reproduction in any medium, provided that the original work is properly cited.