AN IMPLEMENTATION OF LOAD BALANCING ALGORITHM IN CLOUD ENVIRONMENT
Keywords:
Cloud Computing, Load Balacing, Virtual Machine, Data Center, Data Center Broker, Cluster.
Abstract
Cloud Computing is an emerging computing paradigm. It aims to share data, calculations, and service transparently over
ascalable network of nodes. Since Cloud computing stores the data and disseminated resources in the open
environment.So, the amount of data storage increases quickly. As we know that a cloud is the collection of many nodes,
which can support various types of application that is used by the clients on a basis of pay per use. Therefore, the system,
which is incurring a cost for the user should function smoothly and should have algorithms that can continue the proper
system functioning even at peak usage. In this paper, a load balancing algorithm has been discussed and implemented in
CloudSim environment. Multiple number of experiments have been conducted to analyze the results.
Downloads
Download data is not yet available.
References
[1] S. Yakhchi, S. Ghafari, M. Yakhchi, M. Fazeli and A. Patooghy, "ICA-MMT: A Load Balancing Method in Cloud
Computing Environment," IEEE, 2015.
[2] S. Kapoor and D. C. Dabas, "Cluster Based Load Balancing in Cloud Computing," IEEE, 2015.
[3] S. Garg, R. Kumar and H. Chauhan, "Efficient Utilization of Virtual Machines in Cloud Computing using Synchronized
Throttled Load Balancing," 1st International Conference on Next Generation Computing Technologies (NGCT-2015),
pp. 77-80, 2015.
[4] R. Panwar and D. B. Mallick, "Load Balancing in Cloud Computing Using Dynamic Load Management Algorithm,"
IEEE, pp. 773-778, 2015.
[5] M. Belkhouraf, A. Kartit, H. Ouahmane, H. K. Idrissi,, Z. Kartit and M. . E. Marraki, "A secured load balancing
architecture for cloud computing based on multiple clusters," IEEE, 2015.
[6] L. Kang and X. Ting, "Application of Adaptive Load Balancing Algorithm Based on Minimum Traffic in Cloud Computing
Architecture," IEEE, 2015.
[7] N. K. Chien, N. H. Son and H. D. Loc, "Load Balancing Algorithm Based on Estimating Finish Time of Services in
Cloud Computing," ICACT, pp. 228-233, 2016.
[8] H. H. Bhatt and H. A. Bheda, "Enhance Load Balancing using Flexible Load Sharing in Cloud Computing," IEEE, pp.
72-76, 2015.
[9] S. S. MOHARANA, R. D. RAMESH and D. POWAR, "ANALYSIS OF LOAD BALANCERS IN CLOUD COMPUTING,"
International Journal of Computer Sciencand Engineering (IJCSE) , pp. 102-107, 2013.
[10] M. P. V. Patel, H. D. Patel and . P. J. Patel, "A Survey On Load Balancing In Cloud Computing," International Journal
of Engineering Research & Technology (IJERT), pp. 1-5, 2012.
[11] R. Kaur and P. Luthra, "LOAD BALANCING IN CLOUD COMPUTING," Int. J. of Network Security, , pp. 1-11, 2013.
[12] Kumar Nishant, , P. Sharma, V. Krishna, Nitin and R. Rastogi, "Load Balancing of Nodes in Cloud Using Ant Colony
Optimization," IEEE, pp. 3-9, 2012.
[13] Y. Xu, L. Wu, L. Guo,, Z. Chen, L. Yang and Z. Shi, "An Intelligent Load Balancing Algorithm Towards Efficient Cloud
Computing," AI for Data Center Management and Cloud Computing: Papers from the 2011 AAAI Workshop (WS-11-
08), pp. 27-32, 2011.
[14] A. K. Sidhu and S. Kinger, "Analysis of Load Balancing Techniques in Cloud Computing," International Journal of
Computers & Technology Volume 4 No. 2, March-April, 2013, ISSN 2277-3061 , pp. 737-741, 2013.
[15] O. M. Elzeki , M. Z. Reshad and M. A. Elsoud , "Improved Max-Min Algorithm in Cloud Computing," International
Journal of Computer Applications (0975 – 8887), pp. 22-27, 2012.
[16] B. Kruekaew and W. Kimpan, "Virtual Machine Scheduling Management on Cloud Computing Using Artificial Bee
Colony," Proceedings of the International MultiConference of Engineers and Computer Scientists 2014 Vol I,IMECS
2014, 2014.
[17] R.-S. Chang, J.-S. Chang and P.-S. Lin, "An ant algorithm for balanced job scheduling in grids," Future Generation
Computer Systems 25 (2009) 20–27, pp. 21-27, 2009.
[18] Z. Chaczko, V. Mahadevan, S. Aslanzadeh and C. Mcdermid, "Availability and Load Balancing in Cloud Computing,"
International Conference on Computer and Software Modeling IPCSIT vol.14 (2011) © (2011) IACSIT Press,
Singapore, pp. 134-140, 2011.
[19] R. K. S, S. V and V. M, "Enhanced Load Balancing Approach to Avoid Deadlocks in Cloud," Special Issue of
International Journal of Computer Applications (0975 – 8887) on Advanced Computing and Communication
Technologies for HPC Applications - ACCTHPCA, June 2012, pp. 31-35, 2012.
[20] Kumar Nishant, , P. Sharma, V. Krishna, N. and R. Rastogi, "Load Balancing of Nodes in Cloud Using Ant Colony
Optimization," IEEE, pp. 3-9,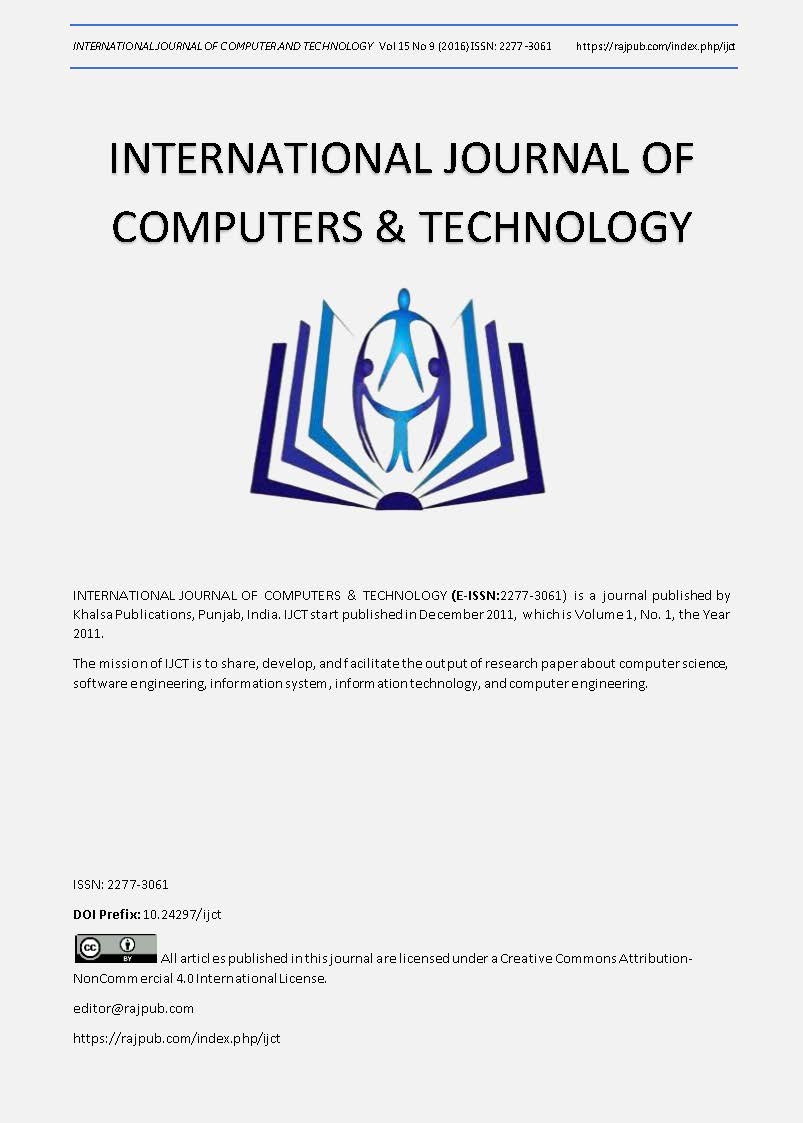 How to Cite
Kamboj, S., & Ghumman, M. N. S. (2016). AN IMPLEMENTATION OF LOAD BALANCING ALGORITHM IN CLOUD ENVIRONMENT. INTERNATIONAL JOURNAL OF COMPUTERS & TECHNOLOGY, 15(9), 7124-7129. https://doi.org/10.24297/ijct.v15i9.739